While browsing online, have you ever seen an ad for a product you already purchased? If you searched for the product on your phone, then purchased it from your laptop, this can be one explanation. Another possibility is that you looked at reviews online before buying in-store. Either way, the marketing behind that product wasn't sophisticated enough to learn you had already converted. 
People-based marketing is different. It uses the data a marketer has collected to identify exact customers and their behavior. Many marketers use cookies and tracking pixels to see when a person accesses an ad or website from a particular device. People-based ID can know when a specific user accesses this information across platforms. So, what is people-based marketing, and how can you harness its power?
People-Based Marketing — an Overview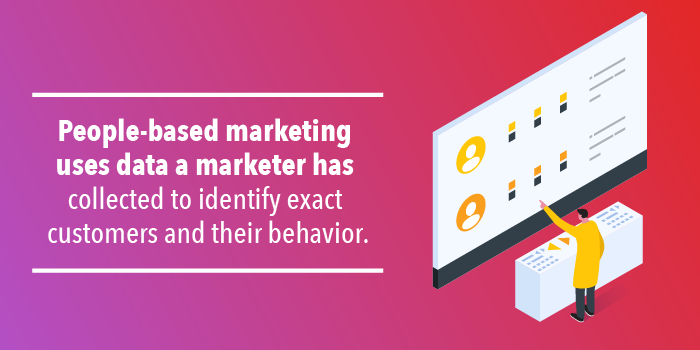 Traditionally, marketers have used cookies to target customers. Cookies and tracking pixels allow businesses to track what a user views on a website, then send them relevant content on another website. A great example of this is when a user browses products on your website and then leaves without buying anything. Later that day, they see a carousel ad on Facebook featuring the exact products they've looked at earlier. Cookies and tracking pixels have limitations because they target devices, not people.
According to research from Deloitte, the US household has an average of 11 connected devices, including 7 screens to view content. Now more than ever, cookies and pixels, which only target devices, aren't good enough.
People-based marketing fills in the gaps in your data. It takes the data from your customer relationship management (CRM) platform and connects it with their online identities. There are two ways this technology can identify users:
1) Deterministic match: This process uses a unique data point to identify a user. The best example of this is an email address, which ties back to one specific user. Any app that requires an email login, such as Google, Twitter or Facebook, can find a direct match with a user. A publisher can create a deterministic match by gating content with a login or providing a better experience to logged-in users.
2) Probabilistic match: This matching technique combines data with algorithms to identify a user. An excellent example of this is that a laptop, smartphone, and tablet each have the same IP address if used in the same location. If all three of these devices access similar websites, there's a good chance they belong to the same person. This process uses statistics to identify individuals even within the same household. It is a bit less accurate, but it increases your scale because it doesn't require an email address to work.
This technology allows you to track an individual's behavior online. By monitoring people based on their identities, you can target the same person no matter what device they're using. 
Here are four ways to identify your users:
1. You Input Your Customer Data
You know a lot about your customers. In your CRM, you likely capture customer emails, phone numbers, occupations, and purchase histories. You may also have information if they've interacted on your channels such as newsletter subscriptions or downloaded gated content. We call this personally identifiable information, or PII; technology will use this information to find deterministic matches.
2. Data Gets Matched With Digital Identities
The data solution you use will cluster and connect your people across IDs, browsers, devices and domains. So a consumer who visits your abc.com site would be connected to all the instances of their identity, including their visit to your def.com site. 
3. Profiles Get Distributed to You
The data is then packaged so you can make sense of it. As a marketer, you'll be able to identify, segment, and reach each individual you want to target. You can map your customer journeys, and learn more about the effectiveness of your strategies across platforms and with different kinds of users. As a publisher, you'll be able to segment your readers and position yourself with superior targeting to your advertisers. 
4. You Deliver Relevant, Personalized Ads
With this new knowledge and refined targeting abilities, you can personalize your marketing strategies to particular individuals. Once, a marketer might target women in their late 20s and early 30s with an ad for baby clothes. Now, that marketer can target a woman who just had a baby with clothes the next size up from what her baby wears now.
Why People-Based Marketing Works
People-based marketing is growing in popularity as marketers seek more meaningful connections with consumers. Among marketers who use a people-based marketing strategy, 90% say they see improved performance over cookie-based campaigns. So, why does it work?
So many services require users to remain permanently logged in. For example, many people access their email on their desktop browser, smartphone, and tablet. They also have other apps on their mobile devices that use their email login such as Facebook, Instagram, and LinkedIn. For a publisher, users might have to log in on their desktop to read articles. Those same users may have that publisher's mobile app downloaded to their phone, where they also stay logged in. All this data allows people-based marketing technology to know exactly where a specific user is browsing at a particular moment. 
This system allows you to see when a user engages with your brand on social media, when they access your website, whether they open your emails and more. You understand exactly how a customer engages with your brand and how they prefer to hear from you. This knowledge lets you target your customers on a personal level.
Besides creating a personalized experience, it also allows for a seamless one. A user can pick up right where they left off as they switch from mobile device to tablet to laptop and back again. Creating a seamless experience is essential to success. For example, consider the online shopper's buying journey. Only 1.53% of online shoppers will convert on a mobile device. By comparison, 4.14% will purchase using a desktop computer. However, about half of social media users only access social media via mobile devices. 
Many users may see an advertisement on their social media page, then move to their laptop to make the purchase. So, e-commerce advertisers that place ads on social media accounts have a strong incentive to recognize a user across devices. This ability is "identity resolution." Essentially, it is the ability to identify an individual when they arrive at a brand's website. Marketers can then give them a personalized experience. 
If a potential customer clicks on an ad they saw on social media, then browses products from their phone, identity resolution recognizes that customer when they switch to their desktop. The website can then recommend the products the customer viewed on mobile or even remember the items the customer placed in their cart.
People-based marketing isn't merely effective, your customers expect it. With brands such as Spotify calling it the "gold standard" for marketing back in 2017, its influence has only continued to grow. The level of personalization creates an unparalleled user experience, which customers crave now more than ever. From seeing updates on product availability to recommended products related to their interests, 90% of customers prefer to see personalized ads.
5 Perks of People-Based Marketing You Won't Want to Miss
People-based marketing is transforming the digital marketing industry. Here are five benefits marketers enjoy when they use people-based marketing.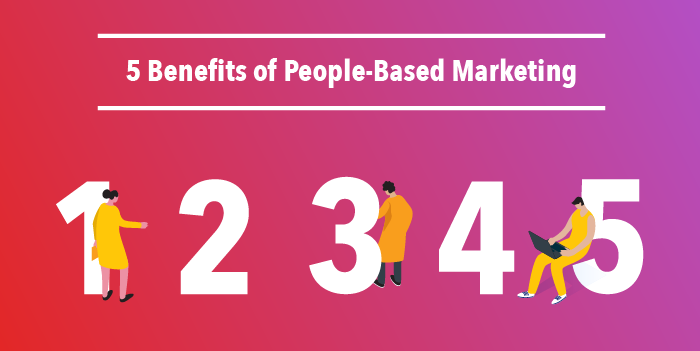 1. Understand Your Customers Better
The top perk of people-based marketing is the ability to gain rich insights into customer behavior. People have more devices than ever before, and they often behave differently on each one. Someone might use their phone to listen to podcasts on their commute, use a company computer for work-related activities and use their tablet to read the news. 
Moreover, consumers expect different experiences depending on their locations. They may be more likely to make business purchases while they're at work, and more likely to stop at stores when they're right down the street. Someone shops differently when they're out of town than when they're sitting on the couch.
With people-based marketing, you can tell where a person is browsing, no matter what device they are on. With location geo-tagging, you can also send them relevant content to match where they are in the world. Knowing a customer's unique behaviors online can let you target that customer where and when they're most likely to see it and engage.
2. More Effective Retargeting
Having access to a specific user, no matter what channel they are using, lays the groundwork for better retargeting. If a consumer clicked on an ad on their mobile device but didn't convert, people-based marketing can let you retarget that user on another device to reinforce the messaging better. 
By knowing what content your target customer has already consumed across all platforms, you can make ads less annoying by increasing variation. You can also glean a better understanding of where your customer is in the sales funnel. So, you'll be able to send more appropriate content to that user.
3. Know and Exclude Those Who Converted
One of the most significant wasted expenditures of a targeted ad campaign is showing ads to a user who already converted. It's costly, and it can also be annoying and irrelevant to the customer. With so many ways to buy and so many devices someone might use to purchase, it's difficult to tell which users respond to a campaign.
Without an omnichannel marketing strategy, data gets fragmented. The shoe example of people-based marketing illustrates the advantage of this approach. Without identity resolution, the marketer's analytics would show the viewer didn't convert and is a prime candidate for more ads. It would also show another user bought the shoes without seeing the campaign. This error can make your campaign seem less effective than it was. With people-based marketing, you will be able to see exactly who converted on which devices. This interconnectivity gives you valuable data for future campaigns and lets you stop sending further ads after conversion.
4. Find New Customers
When you have a complete picture of a current customer, market segmentation becomes much more effective. After mapping out a particular customer's demographics and behaviors, you can find similar candidates and target them using the strategy that worked for your current customers.
By analyzing trends, your data management tool will identify like-minded users and create segments.
5. Stop Targeting Bots
One of the benefits of people-based marketing is that all your ads get in front of real, verified people. With traditional targeting methods, sometimes ads end up in the feeds of online robots. Internet bots pose as real people and visit fake websites. These ads generate fraudulent impressions that give you no return on your advertising spend. With people-based marketing tactics, you target only real people. Moreover, you focus on your ideal customers with a high level of accuracy.
Is People-Based Marketing Right for My Company?
People-based marketing is an investment 93% of brand marketers' companies have made. With such a staggering number, it's no surprise most companies benefit from people-based marketing. If your company currently uses cookies for retargeting consumers, you're likely to see a vast improvement when you target these customers across devices.
Most companies agree a robust set of first-party data gives the best results. So, any company with a well-rounded database is a good candidate for people-based targeting. Any company that has many sources of data can go far with people-based marketing. 
If you are concerned your company doesn't have enough data, it's still possible to get great results. The first step is to concentrate your data collection efforts. Merge data across departments into a single CRM and build out more collection tools. Add more rich, useful gated content to your website. Give customers the option to provide their information at checkout to receive an improved experience. With the proliferation of third-party data marketplaces, you can populate your database and begin targeting real, verified people.
Some of the industries that benefit most from people-based marketing include:
People-Based Marketing With Lotame
Lotame makes navigating the complicated customer journey simple. Our powerful people-based ID graph allows you to make sense of your customers. Our technology plots and clusters diverse datasets to fuel your next marketing campaign. You'll get powerful, rich analytics to plan and activate marketing strategies and build more meaningful relationships with your customers. Want to learn more? Let's connect!
How are marketers and publishers adjusting their customer acquisition strategies in light of nonstop industry change? We surveyed over 1,400 decision-makers to better understand identity's role in their cookieless future, what they're adding and removing from the next-gen tech stack, and where they plan to invest today and in the future. Get the report here.