Building relationships has long been the key to creating a successful business. Customers love it, for example, when their barista knows their name and their favorite drink. Those kinds of customers are probably loyal, regular patrons and would be proud to bring their friends to their preferred local coffee shop.
That kind of connection isn't just for local cafes, though. Companies of all sizes and industries can tap into this idea with a customer engagement strategy, and even purely online businesses can have highly engaged customers. Excellent customer engagement is essential for modern brands. It can help you increase name recognition, foster customer loyalty and grow your revenue.
What Is Customer Engagement?
Customer engagement refers to how customers interact with your brand. Customers choose to perform these interactions, and different customers will engage with your brand at different depths and frequencies. For example, someone who follows you on social media is moderately engaged. Someone who follows you on social media, shares your content, tells their friends about you and buys your products is highly engaged.
Today's customers are looking for more than just a business to buy products from. They want a brand they can identify with and that they feel shares their values. Gallup measures engagement by asking customers to what degree they agree with three statements about a given company:
"[Company] always delivers on what they promise."

"I feel proud to be a [Company] customer."

"[Company]

is the perfect choice for people like me."
Those statements should give you an idea of what it looks like when a customer is highly engaged.
Does My Business Need a Customer Engagement Strategy?
In short, yes. Robust customer engagement offers lots of benefits to businesses and leads to increased customer satisfaction, too. Some of the benefits customer engagement strategies can provide include the following.
Improved customer retention: Your marketing efforts shouldn't stop once a customer converts. A customer engagement strategy can help you improve customer retention and drive repeat purchases. Through customer engagement efforts, they may begin to feel more connected to your brand and eventually become loyal, repeat customers.

Increased sales and revenue: Highly engaged customers tend to make more frequent and larger purchases. High engagement also increases the likelihood that you can successfully upsell and cross-sell. Research by Gallup found that

fully engaged customers represent a 23% premium

in terms of profitability, revenue growth, wallet share and relationship growth as compared to the average customer.

Free promotion: When customers are highly engaged, they're proud to be on board with your brand and will gladly tell their friends, family and social media followers about you. These customers provide you with free promotion — and highly reliable publicity at that. Friends and family are

the most trusted source of brand information among consumers

, according to the U.S. Purchase Influencers Report from Marketing Charts.

Increased brand awareness: An effective customer engagement strategy may also help increase awareness of your brand. To improve engagement, you'll need to create a strong brand personality and interact with customers across various media, making your brand more visible. Your highly engaged customers will also likely increase awareness of your brand by talking about it in their everyday lives.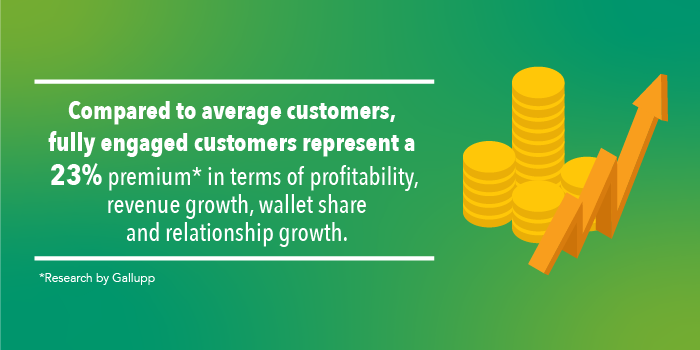 Improvements based on feedback: Engaging with customers gives you opportunities to get feedback, both positive and negative, from them. You can use their responses to improve your customer engagement strategies, customer service, marketing, products, services and more.
5 Steps to Creating a Successful Customer Engagement Strategy 
Want to start increasing brand loyalty, customer retention, brand awareness and revenue? While companies' goals differ depending on their industry and customer base, there are some methods you can use to start improving your engagement. Here's how to create an effective customer engagement strategy.
1. Collect Your Data
The first step in creating a customer engagement strategy is collecting and analyzing your customer data. This data can help you learn about your customers, how you're currently interacting with them and how you can improve your engagement. You may discover insights about your customers' preferences regarding how you contact them, for example. This customer data will help inform and drive your strategy.
Where can you collect customer data from? Data related to any interaction may be beneficial. You can gather information from your social media, advertising platforms, email, sales and customer service teams, point-of-purchase system and customer surveys. Make sure you organize and unify this data in a central system, so you can use it effectively and get a clear picture of your customer base. Lotame's Audience Management solutions can help with this process. 
You can also look beyond your customers' interactions with your company to learn more about them and their habits. Get the complete picture of your customers, from their buying habits with other companies to their typical spending. Learn more about your customers' intentions and demographics to better engage with them. Lotame Panorama can help to fill in any gaps in the information you have about your customers by giving you access to data from first-, second- and third-party sources.
Once you have your data collected and organized, you can analyze it to learn more about your customers. You may discover insights about their interests, values and purchasing habits, as well as the channels they use to interact with your brand, how they feel about your company and many other relevant factors. You can then align your strategies with what you discover. For example, if you discover that a large portion of your customer base regularly visits a particular news site, you can target your ad spending to that news site. If you find that a majority of your customers typically shop for or purchase products that complement yours, you can look for ways to cross-promote the products or tie them together to increase sales.
You can also segment your audience into different groups based on their characteristics and how they prefer to engage with you by using data management tools. It allows you to use different tactics with different kinds of customers. You can also test different strategies by mixing and matching data segments to fine-tune your approach.
2. Connect on an Emotional and Meaningful Level
Genuinely engaging your customers requires an emotional connection, as well as an easy way for customers to act on that emotion. To turn casual customers into highly engaged ones, you need more than just an attractive price or an appealing product. Your customers need to feel a meaningful, emotional connection to your brand.
How can you create this connection? You need to define your brand's core values, then stick to them. Customers are more likely to buy from and remain loyal to brands that they feel align with their values. A robust set of values gives your customers a reason to be proud of being associated with your brand.
When determining the values you want to embody, it's essential to be authentic, since customers will be able to tell if you're insincere. Also, define your values clearly and be careful not to be hesitant or send mixed messages. For customers to fully get behind your brand, they need to be sure about what it stands for. 
You might worry that taking a strong stand might alienate some potential customers. The truth is that it could, but for every customer who dislikes the position you take, another may start to feel an emotional connection to your brand.
Not every brand needs to have controversial or political beliefs, although this approach might work well for some companies. Your values could also be relatively lighthearted and center on having fun and making people laugh, for example. Take some time to think about the core values that make the most sense for your brand, then stick to them unwaveringly to create more meaningful connections with customers.
3. Use Social Platforms
Social media is one of the best tools today's businesses have for improving customer engagement. It's an excellent avenue for engaging directly with your customers and provides lots of opportunities for showing people your brand's personality.
Social media is also a straightforward way for people to engage with companies. Social is one of the first channels that 45% of consumers go to if they have questions or issues, according to a report by Sprout Social. In the same survey, 21% of consumers also said they're more likely to purchase from companies they can reach on social media.
Including social media in your customer engagement strategy is an excellent idea because it allows you to personalize your message to specific customers. Based on the data you collect from your own sources and from second- and third-party sources, you'll gain a better understanding of the preferences and habits of customers who use each type of social media platform.
The right social channels for your company are the ones your customers use and that match your brand. Then, once you've chosen the channels, you can start creating content that aligns with your brand's personality and interacting with your followers.
4. Prioritize Friendly and Helpful Staff
Another crucial aspect of customer engagement is having friendly and helpful staff. Customer service can have a massive impact on how engaged and satisfied customers are. It also often impacts customers' purchase behavior. According to an online survey of more than 1,000 consumers sponsored by Zendesk, poor customer service changes purchase patterns for 97% of customers, and 87% of consumers say outstanding customer service alters buying behavior.
Interacting with your staff, whether through email, on the phone or in person, provides the human connection behind your brand. Seeing the human side of your company can significantly boost engagement, provided, of course, that the interaction is positive.
Do everything you can to ensure customers get the help they need as efficiently as possible, and that the experiences they have when interacting with your company are pleasant. To help with this, make focusing on the customer a critical part of training, and be sure your customer service representatives have all the tools they need to provide an excellent customer experience. 
For example, you should keep track of all your customer interactions and make sure representatives have access to that data. That way, if a customer calls with a question that relates to an issue they called about earlier, the representative can quickly look back and get caught up on the customer's situation. The customer won't have to explain their problem again, and they'll get their concerns addressed more quickly.
5. Be Authentic With Your Intents
We mentioned authenticity earlier, but it's significant enough to talk about it again. In a survey conducted by Stackla, 86% of customers said authenticity is an essential factor in deciding which brands to support. Even more millennials — 90% — emphasized the need for genuineness.
To be authentic, you need to find your unique brand voice, rather than mimic others or create a persona because you believe it will lead to success. Authenticity is about being yourself. Try to find a voice and values that honestly communicate the reasons your company exists and the way you try to conduct your business.
Being authentic requires transparency and honesty. It's an ethical way to run a business, and it will make your customers more enthusiastic about patronizing your company. Plus, customers can typically sense when a brand is disingenuous. And with the amount of information available today, the truth often comes out eventually if a company is dishonest about something. If you want to create engagement with your customers, authenticity and transparency are key.
Boost Customer Engagement With Lotame
As a company, you want to get to know your customers online and off. Lotame's data connectivity solutions are designed to help you establish long-lasting relationships by providing you with a wide-angle, big-picture view of your customers. When you understand what drives your customers when they aren't directly interacting with your business, you'll have the knowledge and insight needed to reach them at the most critical moments. Customer engagement allows people to see that your company gets it, and more importantly, gets them. It creates opportunities for upselling, cross-selling, and conversion.
Boosting customer engagement goes beyond just data collection though. Our solution suite provides you with the tech, data, and identity resolution needed to provide necessary insight into how customers interact with your brand, which allows you to send targeted messages, segment audiences, and optimize interactions to the preferences of different customer types. Use what you learn to continue to improve these one-to-one marketing initiatives, and in return you'll help boost customer engagement, loyalty and sales.
To learn more about how Lotame's interoperable, flexible solutions can help you enhance your company's customer engagement, contact us or request a demo today.